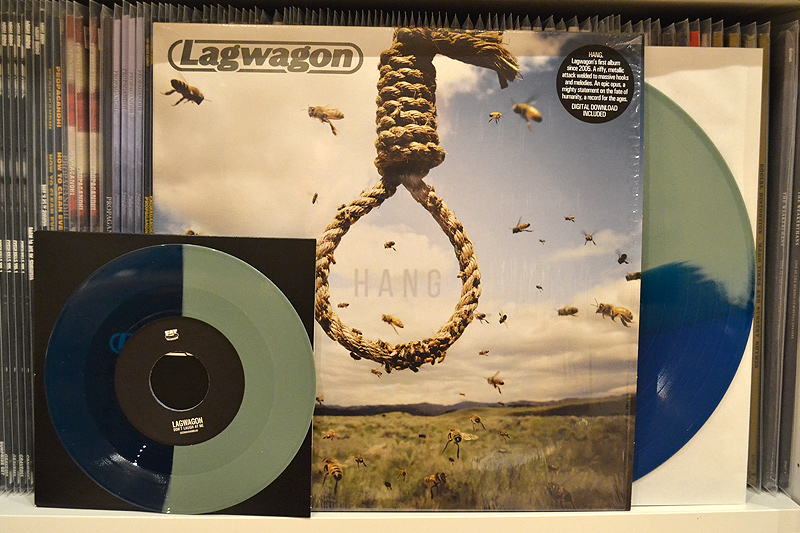 Yesterday I got one of best packages in a long time. Lagwagon's new record in all its beauty comprising of five different variants. The standard black version, the black deluxe version, the bee-striped deluxe version, a white w/ blue haze deluxe version, and the bundle version including a slipmat, a poster, a DVD, a T-shirt and the record on half green/half teal vinyl. Plus, each of these apart from the standard black came with a bonus 7" in the same colour combo. Stoked! Loads of vinyl, so much that there is not even enough space on one picture to show all the variants. If you want to see the whole of this release, just keep checking the Lagwagon section in MY COLLECTION for the update… 😉
When I first heard about a new Lagwagon LP after a 9 year hiatus, I naturally had mixed feelings. Back in 1992 one of my first punk concerts was Lagwagon supporting NOFX on their European tour. The Longest Line and Duh had just been released on a new and fresh punk record label. I bought both records at the show and especially Lagwagon's music has accompanied me ever since. Would a new album sound like it should be?
Well, Fat Wreck Chords has given this release the space it deserves and Lagwagon have not disappointed. Rather, they topped my greatest expectations for that record. For me this record is a journey through time, through all the Lagwagon albums with many things to find from every era. 'The Cog In The Machine' sounds very Duh-esque while 'Reigns' would have been perfectly at home on Hoss. 'Western Settlements' reminds me of some of the later works. And from all these different styles they took the best and made an epic new album.
This will definitely be the album of the year for me. I hope that the release of Hang rings in a new era of Lagwagon releases. They're still one of the genre defining punk bands and probably also one of the best. If you are one of the few that haven't yet heard any of this, feel free to listen to two of the new songs: