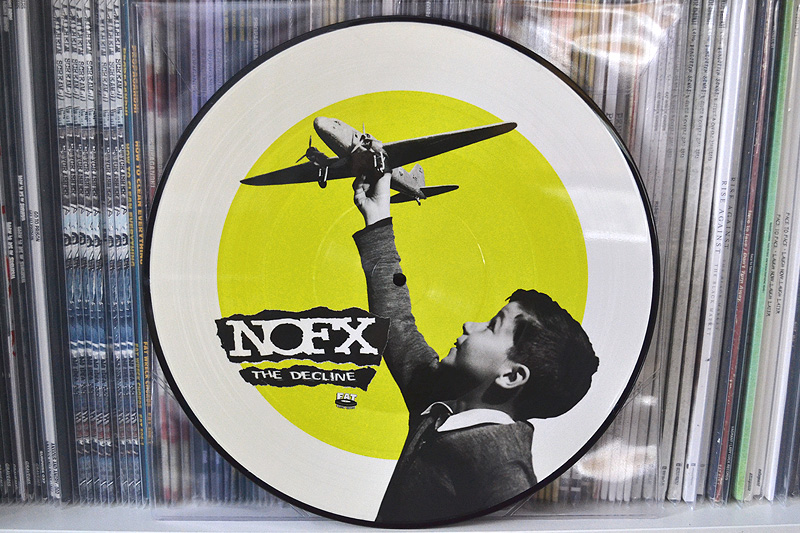 So here it is, another reincarnation of The Decline. The big one. Yes, THE BIG ONE. Fat announced the 15th anniversary edition for this release and people got stoked. Fat made more waves than an ocean cruiser with 211 angry blue mohawked water skiers in tow. Get ready! Be amazed! etc…
Oh my, could the expectations get any higher? All the smoke and mirrors, the tweets about expecting the unexpected, the hype on the message boards…
What would it be? Decline 2? Decline 1 in special packaging with extras thrown in and a personal note from Fat Mike thanking all of us for 15 years of Decline addiction and listening to it religiously like it is the last word and testament of punk rock in a down-spiraling reality of post cold war consumer ignorance?
Well it could have not been more aptly named if it was called Declimax (not really a word -Ed). In two parts. First when it finally went up for preorder, with it being a simple repress as a picture disc with a new B-side and then when it arrived with a white background, unimaginative artwork, frazzled edges and split sleeves. Yes, the PVC sleeves that are widely loved. Hoozah!
In the end the outcome of one of the most anticipated represses of 2014 was just that. A disappointment and anti climax. A Decline 1.1: Declimax! (still, not a word -Ed) As it happens, Clams have finally lost their feelings too, but at least and to keep the lynch mob off the streets, they have pressed a Decline live version as seen in Backstage Passport on the B-side. Meh. Make that Decline 1.2.
Meh! (you said that already -Ed)