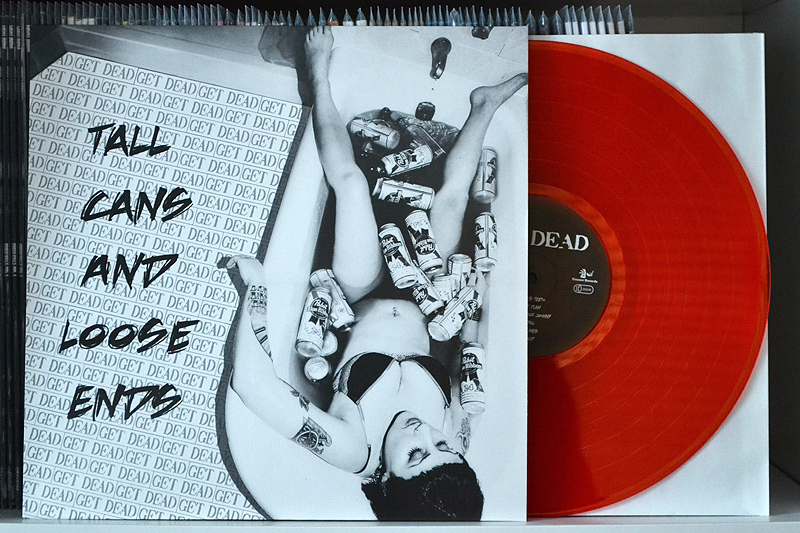 Translucent red version with standard sleeve
Clear version with screen-printed jacket and alternative artwork
Gunner Records is known for releasing music from great US bands for the European market that haven't gotten much attention there up to that point. We're talking about bands like Gaslight Anthem, Cobra Skulls, Red City Radio and PEARS among others.
This time Gunner Records has brought us 'Tall Cans And Loose Ends' by San Francisco's Get Dead, which was originally self-released in 2012. It's the band's 2nd full length after their 2009 debut 'Letters Home'. Unlike their most recent album on Fat Wreck Chords, 'Tall Cans and Loose Ends' is purely acoustic. All in all, it's a very solid effort with heartfelt punk rock songs like 'Escape Plan', 'This One's For Johnny' or the snotty 'Fuck You'. It's the perfect music to down a pint or two and sing along to.
As for the vinyl, a big cheer needs to go to Gunner Records! As we have become accustomed to already, they have again released two color vinyl versions, but as a treat one of these comes with special limited collector's packaging as well, very cool. 380 copies on sexy as hell translucent red vinyl are packed in the standard sleeve. The 'collectors' version is on clear vinyl, limited to 100 copies and sports a screen-printed and hand-numbered jacket. Both together make an awesome duo and Gunnar's (yep that is his name and label, no pun here) touch to release fantastic looking records is quite evident here. It is labels like this that bring joy to the collectors world and I can only urge everyone to head over to Gunner Records i and support this excellent label by picking up a red and the more limited clear version, and some other releases whilst you are at it.