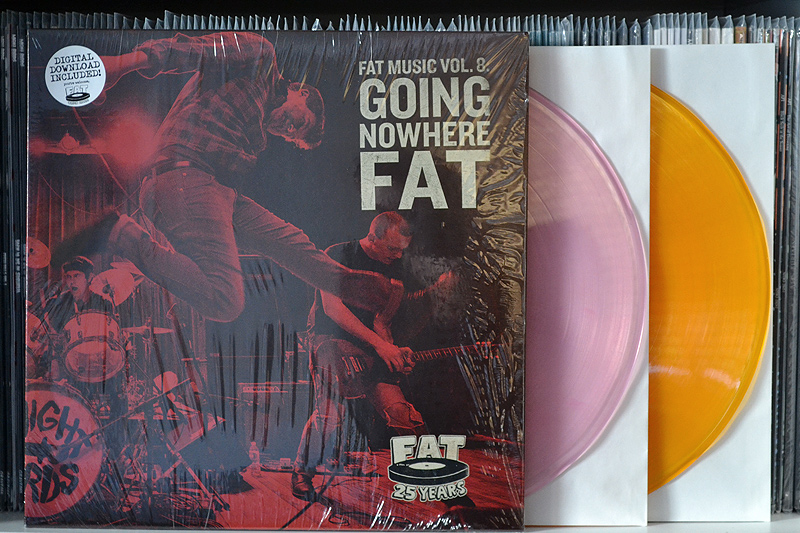 Woo-hoo!!!! Another Fat Wreck compilation in 2015! I am ecstatic! But why should I be so happy? This year has seen a lot of Fat comps, an awful lot. Or to be exact and for the few of you that clearly have lost count, it has seen two. But in five different sleeves. After the three installments of the Greetings From series (each with the same tracklist, but a different jacket), we now have Fat Music Vol. 8 to celebrate 24 years … sorry, 25 years of Fat Wreck Chords. That's why it's 25 songs. The same tracklist, and even the same vinyl colors (including the labels!) surprise, surprise will be used for this year's Fat Music for Fest People V, which is Fest 14 in 2015. Confused? Well the vinyl color options don't make this whole thing any clearer either.
Besides black, there are red + blue, pink + gold, baby blue + mint green, orange + purple (retail version) and baby pink + pastel purple (second pressing mail order). My version is on translucent pink and gold and it is limited to 164 copies. The records are in a single jacket with an insert that tells us where the songs have been released previously. Besides the songs of Western Addiction and Swingin' Utters all songs have already been released or are very likely to be released in the near future.
Joking aside, I'm glad that there is another Fat Music comp, which means the series will continue. I've always liked them a lot. I just wonder if it had to be on the back of that massive 10'' compilation series. And I would have wished for a more exclusive release to celebrate their 24th … oops, 25th anniversary.